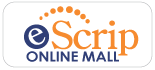 eScrip provides another easy way to raise funds for Tara Redwood School through your everyday online purchases.
Merchants like Safeway, Macy's, Amazon and over 700 other merchants are on eScrip's customer earnings program. Make a purchase at any eScrip merchant using the debit/credit cards that you register with eScrip, and the merchant pays a small percentage of your purchase to Tara Redwood School. It doesn't cost you a thing!
Click here to register and be sure to select "Tara Redwood School" as the group receiving the contributions.
Once you are registered, just shop at any of the eScrip merchants and a percentage of your total bill will be paid to Tara Redwood School through eScrip. It's simple!