Tara Redwood School is the pilot school for the Creating Compassionate Cultures pedagogy (CCC).
Since 1989, Pam Cayton and the staff at Tara Redwood School have researched, created and implemented strategies for awakening compassion, wisdom and social responsibility in the minds and hearts of children. The Seven Steps to Knowledge, Strength and Compassion is a unique, secular educational methodology developed at our non profit private school in Santa Cruz, California.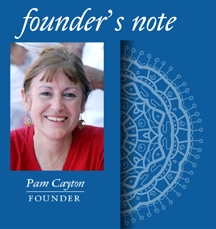 The CCC program blends ancient Eastern and Western wisdom integrated with the latest neuro science and psychology about early childhood development. The core premise is that all human beings possess the ability to develop their innate wisdom, ethical sensibilities and sympathetic understanding, and that aim of education is to help children grow into well–rounded individuals and responsible members of the world community. We offer our students a myriad of creative activities in order for them to explore their feelings and communication skills as well as practice concepts of daily intention and reflections.
Each year, all the grades are given a theme and intention from which they aspire to complete their scholastic year. An example of a scholastic project in each grade is creating  Compassion  Art Cards, which are individually created by our students with mixed media water colors and ink.The cards are printed in stacks of 12 with envelopes and the proceeds from the sales go to a charity chosen by the students.
CCC VISION BASED ON SCIENTIFIC RESEARCH

Vision Statement: To create a happy, successful and meaningful life for people of all ages.
Mission Statement: To empower people of all ages and cultures to awaken knowledge, strength and compassion for living a happy successful and meaningful life.
We Believe: If we develop an understanding that the source of happiness lies within our minds and not in material possessions and entertainment, this becomes the seed for developing psychological and spiritual understanding. Similarly, when we discover that benefiting others is the quickest path to happiness, we will begin to create more compassionate cultures.
The  CCC pedagogy is well researched and it proposes that the healthy development of a person proceeds along three interconnected pathways: 
KNOWLEDGE
The first pathway involves gaining a clear, undistorted insight into our nature and our relationship with the world, through understanding the interconnected nature of all things. By gaining a personal understanding of the way in which our minds function, we can gradually eliminate destructive, self-imprisoning patterns of thought and behavior and learn to relate to our inner and outer environment in a life-affirming and ecologically sound way.
STRENGTH
The second pathway involves developing a healthy sense of confidence in ourselves as capable beings with the ability to bring about change and make a positive difference in the world. As we develop our capacity to see everything we encounter as an opportunity for learning, we deepen our understanding that our perception of the world is created by our perceptions and the power for transformation lies within our mind. As self-knowledge increases, we glimpse our potential to impact the work positively through altruism. In this way, we can actively create the world in which we live.
COMPASSION
The third pathway encourages us to open our heart and develop loving compassion for other beings. The path of compassion enables us to overcome the obsessive self-centeredness that cherishes our individual welfare about that of others. Paying attention to the happiness and welfare of others is the most direct and reliable way to experience contentment and happiness ourselves.
Empathy,  Compassion,  Knowledge, Confidence, Mindfulness, Communication and Creativity
are just a few of the foundational principles of Tara Redwood School's  CCC pilot program.

Tara Redwood School is the first model school for the internationally renowned Creating Compassionate Cultures (CCC) pedagogy.
The approach to this form of education has developed since Pam Cayton, the school's director, founded the school in 1989.
CCC educators encourage students  to engage in acts of kindness and practices for conflict resolution. Our mission is to see our students become capable beings able to make a positive difference in the world. Our unique curriculum  supports such development of individuals and communities who are insightful and compassionate.
The child's evolving sense of self is nurtured through the CCC's contemplative methodology and practical application in developing positive interpersonal skills, self-awareness and the ability to think critically, constructively and altruistically for the greater good. Tara Redwood School believes to provide a foundation for our children to live a happy, successful and meaningful life by offering a program that presents an education to develop knowledge (wisdom), strength (confidence), and compassion (loving kindness).
A little history of Tara Redwood School & Universal Education

Tara Redwood School and the Land of Medicine Buddha  (the current location of the school) are two independent organizations. Although Tara Redwood School's founders have philosophical roots with Buddhism, the school  is not a religious institution but rather a science and logic based establishment. Pam Cayton was motivated by a desire to help initiate an education program that not only prepared children academically, but also emotionally.The concept for a school with such an innovative philosophy and program was initially visualized by Lama Yeshe, a Tibetan Buddhist, who was the teacher and friend to founder Pamela Cayton. Lama Yeshe hoped to develop a program that would incorporate the philosophies of wisdom traditions from around the world–like compassion and mindfulness–and bring them to people from different life backgrounds and parts of the world.
---
Tara Preschool opened its doors 1989 near the Land of Medicine Buddha in the redwoods of the Soquel foothills. The preschool was located at the Cayton's home and by 1996, a Montessori based program for kindergarten was begun.
In 1997, development of the playground began at Land of Medicine Buddha.
Nestled in the redwoods by a gurgling creek, the preschool's magical spot is now comprised of a soccer field, a basketball court, a series of wonderful wooden climbing and play structures, an interactive garden for life lab programs and multiple trekking trails.
In 2012, for a temporary duration, Tara Redwood School expanded its school program and opened a second campus in Soquel Village for the  elementary classes, K–6th grades and the Wisdom Way After School Program.
In 2020, Tara Redwood School with the occurrence of the Covid-19 pandemic, moved its elementary school entirely at the Redwood Campus next to Land of Medicine Buddha. This is a long term dream that is finally materialized for all the classes to be together in one campus. Generous donors and supporters begin development of both the preschool and the elementary school to build another building so to host multiple new classrooms.
---
Video and a Special Message From His Holiness the Dalai Lama
 "We need an education of the heart. My wish is that, one day, formal education will pay attention to the education of the heart, teaching love, compassion, justice, forgiveness, mindfulness, tolerance and peace. This education is necessary, from kindergarten to secondary schools and universities. I mean social, emotional and ethical learning. We need a worldwide initiative for educating heart and mind in this modern age." 2017 , The 14th Dalai Lama, Tenzin Gyatso Nobel laureate for peace.
His Holiness wrote this op-ed with Franz Alt, a television journalist and bestselling author. This piece is adapted from their  book, "An Appeal to the World: The Way to Peace in a Time of Division."
---
Tara Students Sing for His Holiness the Dalai Lama during a special event.
The students of Tara Redwood School had the great opportunity to sing to His Holiness the Dalai Lama at Shoreline Amphitheater in 2001.
This was an amazing experience for the enrolled families to have been invited to participate during his visit and teachings sponsored by Land of Medicine Buddha. Many thanks to His Holiness the Dalai Lama and the office of the Dalai Lama. Also many thanks to Tara Redwood School, the children, George Galt (guitar), Freesia Raine, and everyone who helped with this event.
Click to view Video