Tara Redwood School is the pilot school for the Creating Compassionate Cultures pedagogy (CCC).
Since 1989, Pam Cayton and the staff at Tara Redwood School have researched, created and implemented strategies for awakening compassion, wisdom and social responsibility in the minds and hearts of children. The Seven Steps to Knowledge, Strength and Compassion is a unique, secular educational methodology developed at our non profit private school in Santa Cruz, California.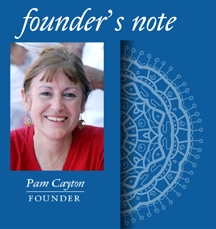 The CCC program blends ancient Eastern and Western wisdom integrated with the latest neuro science and psychology about early childhood development. The core premise is that all human beings possess the ability to develop their innate wisdom, ethical sensibilities and sympathetic understanding, and that aim of education is to help children grow into well–rounded individuals and responsible members of the world community. We offer our students a myriad of creative activities in order for them to explore their feelings and communication skills as well as practice concepts of daily intention and reflections.
Each year, all the grades are given a theme and intention from which they aspire to complete their scholastic year. An example of a scholastic project in each grade is creating  Compassion  Art Cards, which are individually created by our students with mixed media water colors and ink.The cards are printed in stacks of 12 with envelopes and the proceeds from the sales go to a charity chosen by the students.
---
ONLINE CCC CERTIFICATION 2020
OICCC 2020 Online
Certification Program & Personal Enrichment.
Choose Your Start Date!
May 13th or July 13th 
Register now for a reduced fee
 This program is for educators, leaders, parents, and anyone who aspires to make a positive difference in the world. It can be utilized for one's own development and also for guiding others through the steps to develop wisdom and compassion.
The Online Institute for Creating Compassionate Cultures Certification Program offers twelve interrelated courses that lead participants through the 7 Steps to Knowledge, Strength & Compassion pedagogy, providing the opportunity for deep personal and professional growth, as well as practical application of the 7 Steps methodologies.
Participants in the Certification program spend one year studying concepts via dynamic audio and video lessons provided on the OICCC portal. This is followed by a two week internship at our pilot project, Tara Redwood School. Finally, a portfolio project is completed that requires research, in-depth reflection, and application of course materials.
If you are embarking on this journey for personal enrichment and you do not wish to complete the Certification, your program will be shorter as you do not need to submit the assignments, nor participate in Course 12.
If you have specific questions about how you will be able to apply the 7 Steps within your project or organization, please email us directly...
info@creatingcompassionatecultures.org.
Register
http://www.oiccctraining.org
---
Mind & Its Potential-Sydney, Australia 2011
Tara Redwood School's founder give a presentation talk about the foundation of the school's innovative CCC program and the "Seven Steps of Strength, Knowledge & Compassion" in 2011, at the "Mind & Its Potential" annual conference of neuro scientists.


CCC Vision & Statement
Vision Statement: To create a happy, successful and meaningful life for people of all ages.
Mission Statement: To empower people of all ages and cultures to awaken knowledge, strength and compassion for living a happy successful and meaningful life.
We Believe: If we develop an understanding that the source of happiness lies within our minds and not in material possessions and entertainment, this becomes the seed for developing psychological and spiritual understanding. Similarly, when we discover that benefiting others is the quickest path to happiness, we will begin to create more compassionate cultures.
The  CCC pedagogy is well researched and it proposes that the healthy development of a person proceeds along three interconnected pathways: 
Knowledge
The first pathway involves gaining a clear, undistorted insight into our nature and our relationship with the world, through understanding the interconnected nature of all things. By gaining a personal understanding of the way in which our minds function, we can gradually eliminate destructive, self-imprisoning patterns of thought and behavior and learn to relate to our inner and outer environment in a life-affirming and ecologically sound way.
Strength
The second pathway involves developing a healthy sense of confidence in ourselves as capable beings with the ability to bring about change and make a positive difference in the world. As we develop our capacity to see everything we encounter as an opportunity for learning, we deepen our understanding that our perception of the world is created by our perceptions and the power for transformation lies within our mind. As self-knowledge increases, we glimpse our potential to impact the work positively through altruism. In this way, we can actively create the world in which we live.
Compassion
The third pathway encourages us to open our heart and develop loving compassion for other beings. The path of compassion enables us to overcome the obsessive self-centeredness that cherishes our individual welfare about that of others. Paying attention to the happiness and welfare of others is the most direct and reliable way to experience contentment and happiness ourselves.
Monthly Classes for New Parents