BE A PART OF TARA REDWOOD SCHOOL'S EXPANSION!
We have already raised over $186K from the start of our Building Campaign! 
A BIG heartfelt THANK YOU! To all of you who have made a donation.
However, we still need to reach our goal to meet necessary expenses for paying county permits,
class development costs, school scholarships and overall costs to enlarge our forest school. 
Tara Redwood needs everyone 's help in order to provide more classroom spaces for students in 2nd–6th grades.

Donate what you can to support the growth of Tara Redwood School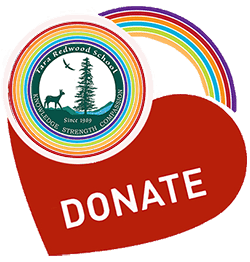 We are needing to raise $100,000 by December 2023. All gifts will be matched up to $10,000, so we hope you will help us reach 100% community participation by making a gift today!
All donations receive a tax deductible receipt.
DEVELOPMENT OF OUR ANNUAL GIVING CAMPAIGN
In 2020 we closed the K- Elementary campus and we see this as the time to move fast forward to provide more children with the opportunity to learn in our pristine, peaceful and safe campus in the Redwoods, on the Land of Medicine Buddha property.
 We are ready to actualize our long-held vision and enlarge our school through the 'Building from the Foundation Up' Campaign. We will add a second floor to our Preschool Building that will accommodate our Elementary Classes enabling us to expand to 6th Grade.
---
 For more than 30 years, we have built a strong community of families, alumni and friends, who have enabled us to fulfill our mission. Please join with us to 'Build from the Foundation Up!'
 A donation of any amount helps us move to the next level of our development, as well as provide funding for our scholarship program. 

Here are ways you can donate to Tara Redwood School.
You can securely donate to: Tara Redwood School, 5810 Prescott Road, Soquel CA 95073*
A  501(C)3 non-profit organization. Donations are tax deductible to the extent provided by law.
Here are some programs and events through which you can donate to Tara Redwood School.
Annual Giving Fundraiser
Company Matching program
#Giving Tuesday

Annual Auction
Amazon Smile
A special note by the school director.
In Memory of Lucille Cayton
March 19th 1921 – January 18th 2021
I would like to acknowledge and honor my mother-in-law , Lucille Cayton, who passed away peacefully on January 18th. 
Lucille was a generous supporter of the school for many years and in essence we owe a great deal to her for her kindness.
She supported our scholarship program, the purchase of our bus, and provided a matching donation for our fundraising efforts throughout the years.
I am filled with gratitude in memory of her, and in reality,  
although Lucille has passed from this life,
her legacy lives on at Tara.