Empowering children to make a positive difference in the world is Tara Redwood School's mission but one that needs 100% support from generous donors.
About 75% of school funds are currently met, but Tara needs all of 100% to meet school expenses. We thrive to offer special programs and student enrichment activities, we want to increase our school faculty, we want to continue to offer excellent school scholarships and supplies to families who desire to attend Tara Redwood but need financial assistance.

In addition to the school's necessities,
Tara's foremost important vision is to have the K-Elementary classes re-located adjacent to the Preschool classrooms, located in the Nisene Marks Forest amidst the  Redwood trees of Santa Cruz.
To make our move happen, we need to meet many expenses.
Your monetary support is what helps our non-profit continue its growth and offer innovative education to as many students as possible.
For these reasons, we are committed to monthly fundraising and we depend on our greater community to meet our mission.
Please consider making a donation to fund our school and be a part of  a great campus. Tara Redwood School provides a comprehensive educational program. Not only do we strive to help children discover the joy of learning, we also provide a foundation for the emotional and inner development of each child through our Creating Compassionate Cultures program.
Here are some ways you can donate to Tara Redwood School.
You can securely donate via:
Checks
Cash
 PayPal or with any major credit card
Secure donations can be made directly to Tara Redwood School by clicking on this heart button.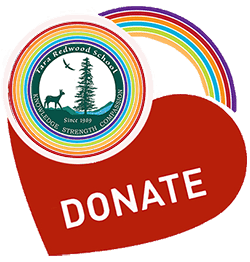 Tara Redwood School is a 501(C)3 non-profit organization. Donations are tax deductible to the extent provided by law.

Here are some programs and events through which you can donate to Tara Redwood School.

Hike4Peace Festival is a family event and all are welcome! This is our open house in May and families can enjoy arts & crafts activities and meet local vendors. You can donate by  sponsoring a hiker for the 8 Verses Trail at The Land of Medicine Buddha and purchase raffle tickets to win special prizes. This is our end of the year fundraiser.