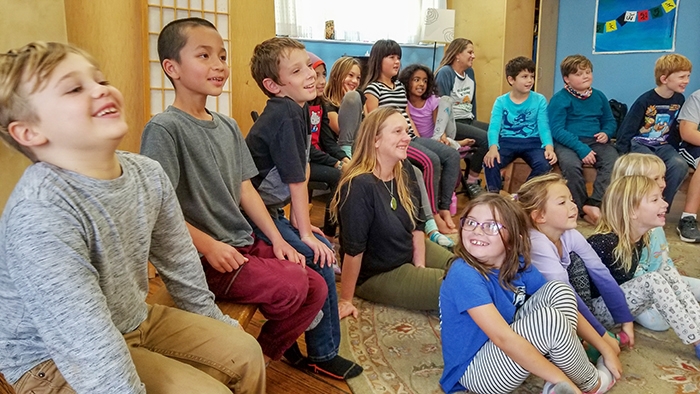 The Elementary School Program is for children TK – 6th Grade
Age Cut-Off Date:
5 years old by December 1st for T-K
5 years old by September 1st for Kindergarten
6 years old by September 1st for First Grade
We offer a Montessori-based curriculum combined with Tara Redwood School's innovative school program CCC (Creating Compassionate Cultures). Our approach follows the whole child education system in a mixed-age, open classroom setting.
We acknowledge each child has his/her own unique personality and interests.
With older children, we continue with the CCC program and the Seven Steps methodology. Each year we introduce a new theme that compliments each of the steps and inspire to students to explore academics and the CCC program through extensive creative arts and academics.
The Seven Steps methodology is a step-by-step, comprehensive approach to awakening compassion through wisdom developed over the past 30 years at Tara Redwood School.
These steps are:
Mindful Intention
Interconnection
Change
Perception
Transformative Emotions
Empathy
Compassion
With the cyclic progression of these steps , students learn a more compassionate attitude that evolves naturally through an all-encompassing approach. At Tara Redwood School Elementary we introduce these principles as we come to discover them in our world. The students learn from experience, interactive play, mindfulness and theme inspired creative projects.
As their experience and reasoning develops, each at their own pace, we begin to link these principles together naturally uncovering the ecology of compassionate relationship to oneself, our friends and the world.
It is our aim to provide a curriculum that inspires and nurtures these various needs of the children. Our open classroom style allows children to fully explore and pursue their special areas of interest.
Our program is noted for our stimulating math, sciences and creative arts curriculum. We offer our grade students coding classes, environmental studies, extensive exposure to mindfulness and long forest hikes through 108 acres of lush forest at our Redwood Campus.
Kindergarten classes and the Elementary classes are offered multiple field trips throughout the year for curriculum theme enrichment. Our curriculum has access to wonderful resources we have in our families and community to make the students' learning as experiential and stimulating as possible. The themes also include studies of the continents, cultural studies, foods and language, cultural hot lunch menus that the children help prepare.
Schedule:
TK–K                   9:00am–2:45pm
1st.–2nd Grade  8:45am–2:45pm
3rd–6th Grade   8:30am–3:00pm
WE ARE NOW ACCEPTING APPLICATIONS FOR K–5TH 2023–2024 SCHOOL YEAR.