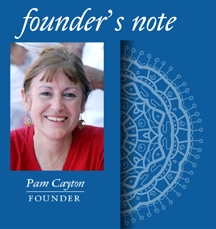 "In recent years a trend has been building among educators, researchers and psychologists who are dedicated to finding the missing piece in education."
Explore the philosophy behind the Foundation for Developing Compassion and Wisdom and listen to an interview with Tara Redwood School founder Pam Cayton.
How is Tara Redwood School connected to the Compassionate Cultures?
Although Creating Compassionate Cultures officially came into being in 2012, the idea behind CCC began in the 1970's, when Lama Yeshe, my Tibetan Buddhist teacher, shared his ideas about a "universal education" that would expand the philosophies of compassion and mindfulness found in contemplative traditions so they could benefit people of different backgrounds and faiths all over the world.
When I moved to the United States with my young family after living in Nepal for many years, I found that the educational options in the area did not embody essential qualities I felt were needed to educate the whole child. Remembering Lama Yeshe's vision for a universal education, I was inspired and then challenged to develop educational methods that blended the practical approach to learning and acquiring scientific knowledge of the West with the depth of logic, wisdom, and compassion of the East.
As a result, Tara Preschool was born in 1989 and in 1996 we opened Tara Redwood School, a PreK through 3rd grade school.
In 2009, in response to the strong interest of educators, counselors, and parents, we started to offer workshops around the world on the curriculum and materials I had developed at Tara Redwood School. I named the educational program, The Seven Steps to Knowledge, Strength, and Compassion, with the goal of developing mindfulness and compassion in children and youth. In 2012, Creating Compassionate Cultures formed as a nonprofit organization so it could provide programs for youth of all ages both in the United States and around the world.
The Aim of Compassionate Cultures is to provide training and materials that empower children, youth and families to make a positive difference in the world!
You can find more information about the CCC program and workshops HERE.
To the prospective parents: I hope you find time to explore Tara Redwood School's culture in-depth, we are looking forward to meeting you!
To the Tara Family: thank you for sharing your amazing children with us, we are honored to know them!