Journey Into the Heart of Nature
---
Tara Redwood School offers a great summer camp!
June 15th  to August 28th*
*Call for weekly schedules.
Summer Camp Camp for  3–5  Years Old
---
Theme: 
Friends of the Earth,

Friends of the Ocean,

Friends of the Forest,

Friends of the World
Children can  explore, play, have adventures and discover something new everyday on 108 acres of creeks, woods and meadows!
Activities include:
Forest exploration and water play
Creative arts, cooking, sewing and clay work
Yoga and mindfulness practice
Science- plants and animals
Camp Registration Note
*If your child is between 5 and 6 and you feel they would be better suited in the older class, please contact the Tara Redwood Office
THIS CAMP HAS BEEN CANCELLED.
June 29th–August 21st
Camp for 5–10 Years Old.
Theme:

Journey Into the Heart of Nature



 

WIND,

FIRE,

WATER

,

EARTH
Join wilderness studies expert and enthusiast Lisa Dreyer Campiglia. Each week, we'll explore cooperative games, creek exploration, habitat studies, animal observations, playful skits, nature themed art, yoga, capoeira, parkour, sports  and explore the various elements that support all life.
For children 10 years old and up, we will offer a junior counselor program for skill building leadership. 
Activities include:

Walks through the forest

Movement & Play
Observation & Mindfulness
Work collaboratively as well as independently
Learning about our own emotions and inner values taught at Tara Redwood School
---
Lisa Dreyer Campiglia, summer camp educator.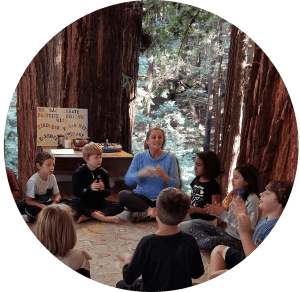 She brings with her several years of art curriculum development ,a leading innovation education camp for kids, and well over 3 decades of experience in childhood education with a strong focus in the arts and wilderness studies.

She is super excited to explore, create, play and grow with campers up in the redwoods this summer, whipping up a delicious mix of some of the things she likes the best; being in nature, creative play and problem solving, making magic, tuning in, and sharing out.
Preparing Kids for Camp and What to Bring
Eat a big healthy breakfast before camp
Pack large healthy lunch (please no candy)
Snack in a separate container from lunch, Labeled "SNACK"
A warm layer (for morning hikes), and shorts and short sleeves for hot afternoons
Water play clothes, swimsuit or shorts
Towel (with name on it)
A hat
PLEASE LABEL ALL PERSONAL ITEMS!
Please also remember to pack:
Sunscreen – please apply sunscreen to your camper before you leave the house
Shoes suitable for hiking (NO open toed shoes): Tennis shoes, hiking shoes, or closed toed (Tevas are options)
Water bottle with your child's name on it
A backpack to carry lunch and sweater while hiking
An extra change of clothes including underwear, bottoms and shirt in case of a wet accident.
"In every walk with nature one receives far more than he seeks."
— John Muir
We look forward to a great summer!