Tara Redwood School offers a great summer camp where c
hildren explore,
play, have adventures and discover something new everyday
on 108 acres of creeks, woods and meadows!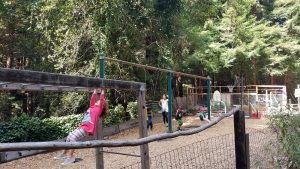 Into the Heart of Nature Summer Program 2021*
*Only offered for currently enrolled families during Covid-19 pandemic.
Summer Camp 2021 Information and Schedules
PRESCHOOL
SESSIONS OPTIONS
$ 75.00/Day
TK-2nd.
SESSIONS OPTIONS
$ 75.00/Day
PROGRAMS & AGES
SESSION DATES
T/Th




M-F only.*


Program A:

Toddler

8:45am-2:45pm
Session I:

June 21 – July 16
M/W/F
*TK–2nd must enroll for 4 consecutive weeks.


Program B:

Preschool

8:30am - 2:30pm
Session II:

July 19 – Aug 13
M–F
Program C:

TK/K - 2nd.

9:00am - 3:00pm
Preparing Kids for Camp and What to Bring.
Eat a big healthy breakfast before camp
Pack large healthy lunch (please no candy)
Snack in a separate container from lunch, Labeled "SNACK"
A warm layer (for morning hikes), and shorts and short sleeves for hot afternoons
Water play clothes, swimsuit or shorts
Towel (with name on it)
A hat

Please remember to label all personal items.
Please also remember to pack:
Sunscreen – please apply sunscreen to your camper before you leave the house
Shoes suitable for hiking (NO open toed shoes): Tennis shoes, hiking shoes, or closed toed (Tevas are options)
Water bottle with your child's name on it
A backpack to carry lunch and sweater while hiking
An extra change of clothes including underwear, bottoms and shirt in case of a wet accident.
"In every walk with nature one receives far more than he seeks."
— John Muir
We look forward to a great summer!